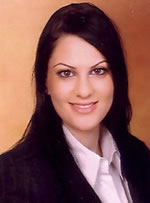 Ada Flourentzou was born in Nicosia in 1985. She completed her LLB law degree at the University of Leicester, where she graduated in 2006. Ms Flourentzou continued her studies in London, where she completed her Bar Vocational Course at BPP School of Law and became a Barrister at Law of Lincoln's Inn.
In 2007, Ada Flourentzou successfully completed her training in Cyprus and since 2008 she is a member of the Cyprus Bar Association and a practising Lawyer.
Ms Flourentzou undertakes complex cases; she practices in all areas of law however shows a real interest in family law, extradition law and civil law cases. Furthermore she is a member of the Corporate Department of the firm and also a manager of the firm.
Ada Flourentzou
25/11/2014